All of MoHo – Motorrad Hotels' competence
Not only brothers, but also enthusiasts to the core!
At our profession as hosts, we basically perfected motor cycling trips to Salzburg here at Solaria. The bottom line is that we know the wants and needs of fellow bikers, and we know them well. That's why, for every motor cycling guest, we not only have the right tours to recommend, but we're also on hand with help, advice and a tool box when it comes to your ride.
We know the all the best roads to take, as well as the best inns and the nearest tire dealers and repair shops very well. You'll get this level of know-how only at MoHo – Motorrad Hotels.
As certified tour guides, we offer guided day tours every week. On our Senza confine-Tour, we'll take you to Italy (Friuli) for a couple days, too.
Our guests really appreciate our competence once they start out with their "Bike-GPS" for the first time.
Finally, we've been members of MoHo – Motorrad Hotels since the corporation's founding in 1996, which is now the largest group of specialised bikers' accommodations in the Alps. We are honoured to receive the highest ratings of competence, "MoHo 5-Helmets" and have these ratings certified regularly.
For a few years now, our know-how has been improved additionally by fellow biker and chef, Peter Egger. When he's not guarding his pots and pans or juggling his kitchen knives, he spends every minute in the seat of his motorcycle.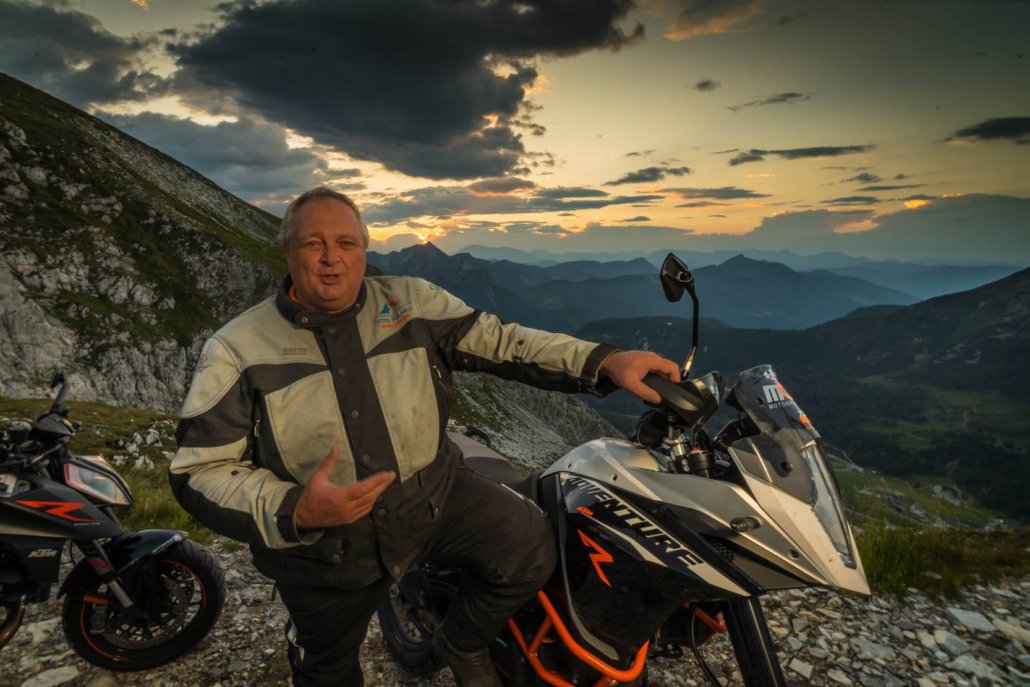 Christian Schmidt
1964 model
At the early age of 9 years I learned to appreciate the advantages of an added engine between two wheels. The engine was also the only thing still working on my Puch MV50. There were no brakes, isn't that why we used to wear platform shoes in those days?
Hotel Solaria
Get to know Christian Schmidt:
Later, I gained my first experiences with trial motorcycles, riding a 50 ccm Fantic and a Montesa Cota 242. I believe that's where my incline towards riding off road began to manifest.
My first ride designed for paved roads was a Kawasaki Z1000 J. A huge thing, but back then a "real motorbike" needed to have at least 1000 ccm and weigh 300 kilograms.
A couple years later, I got a Honda Transalp and an Africa Twin and I learned to appreciate dual-sport motorcycles for how versatile and easily controllable they were.
On these two, I ventured along all the gravel road classics in Piemont and the Maritime Alps. Ligurian border crest road, Assietta, Parpallion, Sommeillier, Jaffreau, and of course, King Chaberton, I've conquered them all.
When the KTM 950 Adventure first came out in 2003 I knew I had to have her too. I've been connected to the KTM two-cylinder community from the start, on the forum www.lc8.info, and so the annual LC8.info meet-up came to life.
In 2008, the event got its current name, "Orange Mountain" – Adventure Bike Summit.
Privately, I like to keep things a little rugged: Off-road tours to Italy, Croatia, Spain and Albania are just some examples. My friends and I explored Bosnia and Bulgaria too over the past couple years.
But don't fear, with all due love for off road tours: Of course, I also love cruising along our winding, lonesome paved roads. That's where I take my guests most of the time.
Maybe we can go for a ride together this summer. By the way, in the summer of 2014 I added a BMW R nineT to my collection.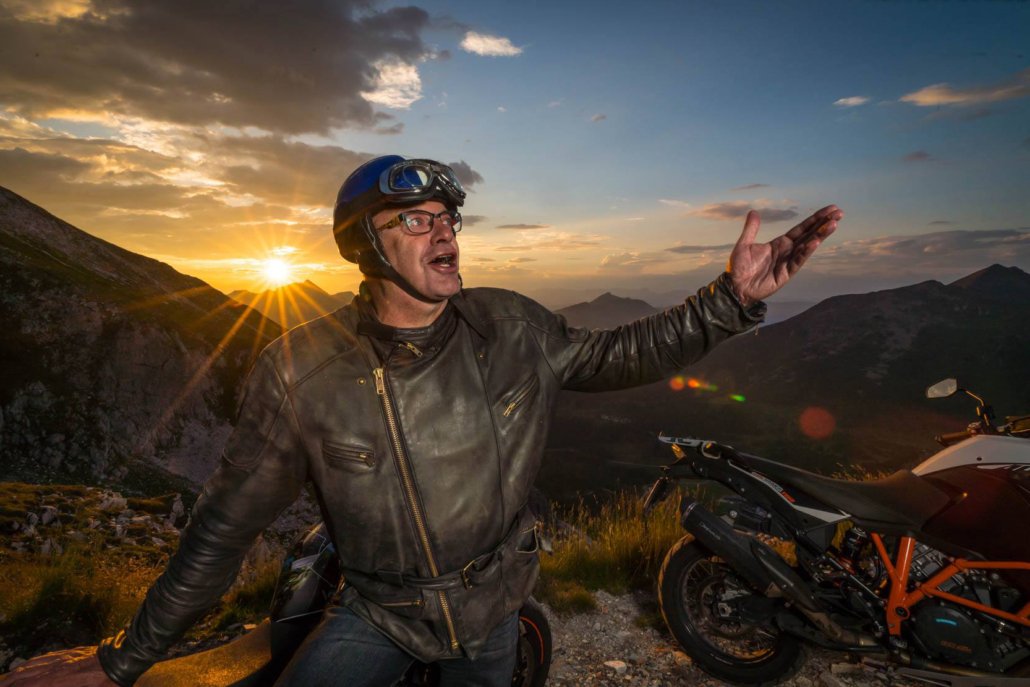 Werner Schmidt
1959 model
It all started when the neighbour's cook was broke. Among his possessions, there was a "Stanglpuch" (Puch MV 50). Due to extreme weight optimization (by getting rid of unnecessary stuff like mudguard and lights, for instance), it was perfect for off road use. For 100 shillings, in today's money about 7 (!) euros, the vehicle changed its owner
Hotel Solaria
Get to know Werner Schmidt
When I was 19, after saving up for months and a little financial aid from grandma, the time had come for a new ride. I would paint the town, or rather, the mountains around town red and set the local hunters' teeth on edge on a Montesa Cota 348.
Not much later, the Montesa was replaced by a Kawasaki Z650. It was all the rage in the late 70s! You got a lot of power out of that four cylinder engine, and the frame that's made of "water pipes" and spring elements for a 125 ccm bike guaranteed for adrenaline boosts that are unrivalled to this day.
Trail bike riding was another new challenge, on my Honda Transalp and later on, my Africa Twin. The 90s were a great couple years, with our expeditions to the classic Alpine gravel roads around Lake Garda, Piemont and the Western Alps.
The day I got a Russian side-car motorcycle only fit for scrap, most of the people around me began to question my mental state. From this time on, most of the time I was seen rummaging around untidy piles of tools and repair parts daubed in oil. I had contracted the gearhead and Oltimer virus. The disease climaxed in restoring a Moto Guzzi Airone Sport from 1951.
A couple years ago I sold my loyal Africa twin and spontaneously replaced it with a Harley Sportster 1200 R. So then, my BMW GS-, KTM-, V-Strom, etc. riding friends were completely sure: He's gone bonkers. But don't worry guys, nevertheless I wear a full face helmet for protection, and also: this model is called "Sportster" and has its roots in American Dirt Track sports. I'll see you on the road…
What else? The GasGas trial motorcycle has been refurbished and has brand new tyres because I'm getting back into riding it. I'd like to stay fit in my old age!